Resources
Free workforce analytics eBooks and resources to stimulate your mind and jump-start your initiatives.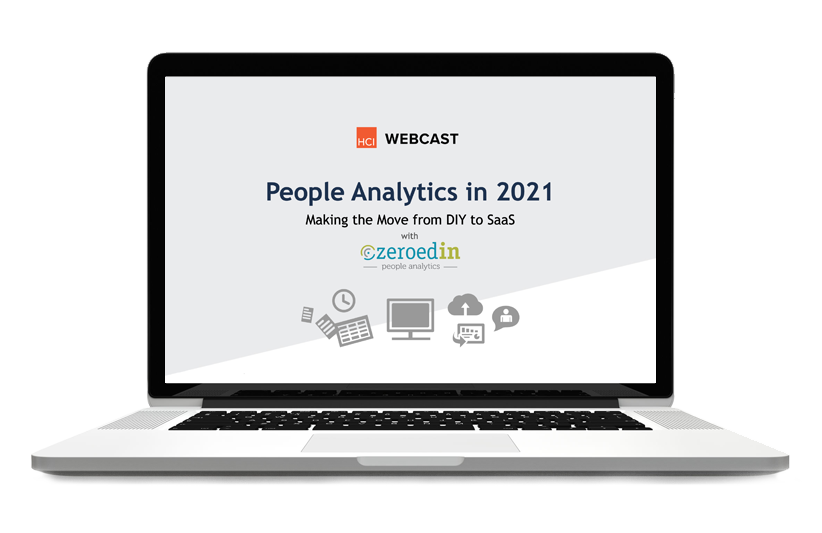 People Analytics in 2021:
Making the Move
from DIY to SaaS
Ever wondered the benefits and costs associated with DIY methods compared to SaaS people analytics solutions? This presentation, produced in partnership with HCI, explores that and more. Learn the building blocks of a streamlined people analytics initiative, identify the costs and limitations of DIY, discover the benefits of a full (or hybrid) partnership with a people analytics solution provider, and learn what's needed to make the jump from DIY to SaaS people analytics, which can take your organization to the next level.
Watch Presentation
From Zero to Hero:
A Transformative Journey
Through Workforce Analytics
You're the consummate Human Resources professional, a rising star in your company because you get things done, meet challenges, and solve problems. You "get" analytics and know the information you need to make better workforce decisions is buried in all those management systems – but you can't seem to dig insights out of the varied bits of data when they don't connect with each other.

The biggest challenge you have is how to make employee information cohesive, useable and insightful for the people managers on the front lines who need it. Travel with us to learn how quickly you can become the resident authority for your company.
Download eBook
Top 6 Most Requested
Workforce Insights
What factors do you have control over to analyze and measure your workforce? Influences on these factors can be difficult to see, but upon discovery, they awaken new potential in understanding your workforce. With that knowledge, companies can make exceptionally more informed decisions.

Discover six of the most requested workforce insights that can improve your company.
Download eBook
5 Myths and Misconceptions
About Workforce Analytics
The importance and value of having a strong workforce analytics program is well known. It simplifies decision making and clarifies workforce strategies. Metrics are calculated and presented in ways that can be easily understood by everyone, without any special training or knowledge.

Yet, there are organizations who struggle with getting a solid workforce analytics initiative off the ground, and for a variety of reasons. Some are authentic, but many are misconceived, leaving behind a lot of locked up potential and time saving strategies.

Read about five of the most common myths and misconceptions that organizations encounter.
Download eBook
Top 3 Things You Need to Know
About Workforce Analytics
Workforce analytics is becoming a necessity – so you can't keep ignoring it. Consultants and analysts have been talking about workforce analytics for years. If you've gotten this far without implementing it, it's easy to assume that you can continue to ignore it. But really, you can't. Why?

Set yourself up for success and gain better understanding of three vital workforce analytics factors and insights.
Download eBook