It's no surprise that employees and employers can sometimes have vastly different thoughts on what is important to them in their business. However, what did come as a surprise to many was the start of "The Great Resignation."
Texas A&M associate professor of management Anthony Klotz coined the term "The Great Resignation" in a 2021 Bloomberg interview. Klotz theorized in the interview that the workforce was going to see a surge in resignations during late-2021 and 2022 due partially to "pent up resignations" held onto during the uncertainty of the 2020 pandemic and a resulting shift in priorities for the typical American office worker.
If your company doesn't already have a people analytics platform in place, it can be challenging to forecast nuanced changes in your employees' satisfaction levels. If you are one of the companies that doesn't currently have a way to track people analytics, it might be time to put a platform in place and start using it to its full potential. This can potentially help your business retain employees, increase workplace productivity and increase your employees' satisfaction even in the face of "The Great Resignation."
Help Your Team See Past Their Objections
In a 2021 survey, 40% of participants said they were likely to quit their job in the next 3-6 months. Of those, the majority responded that they would leave their current position without another job offer already in hand.
Company leaders and human resources professionals must have a way to communicate with employees about their needs and desires. A people analytics platform is one of the best ways to understand data about employee satisfaction from a quantitative viewpoint. Of course, when trying to implement a new tool, you're likely to face objections. But the buy-in from your team is crucial to providing your organization with the benefits a platform like ZeroedIn can provide.
For instance, if your HR department feels there are not enough high-quality data points to work with, there are always ways to analyze any data set with the right tool. ZeroedIn's platform collects, cleans, curates, and delivers the information with targeted insights. In addition, the platform offers information on performance, productivity and can show advanced signs that retention might be in jeopardy.
Consider also that the team might balk because a people analytics platform doesn't conform to your company's current business intelligence standard. Your team may have tools in place already, but can you honestly say that the current methods are the most accessible, most organized, least costly, and least complex ways to analyze the data and get the information you need? Hint: You're not alone! In a 2021 survey completed by the HR Research Institute, only 44% of respondents said they were good or very good at gathering people analytics.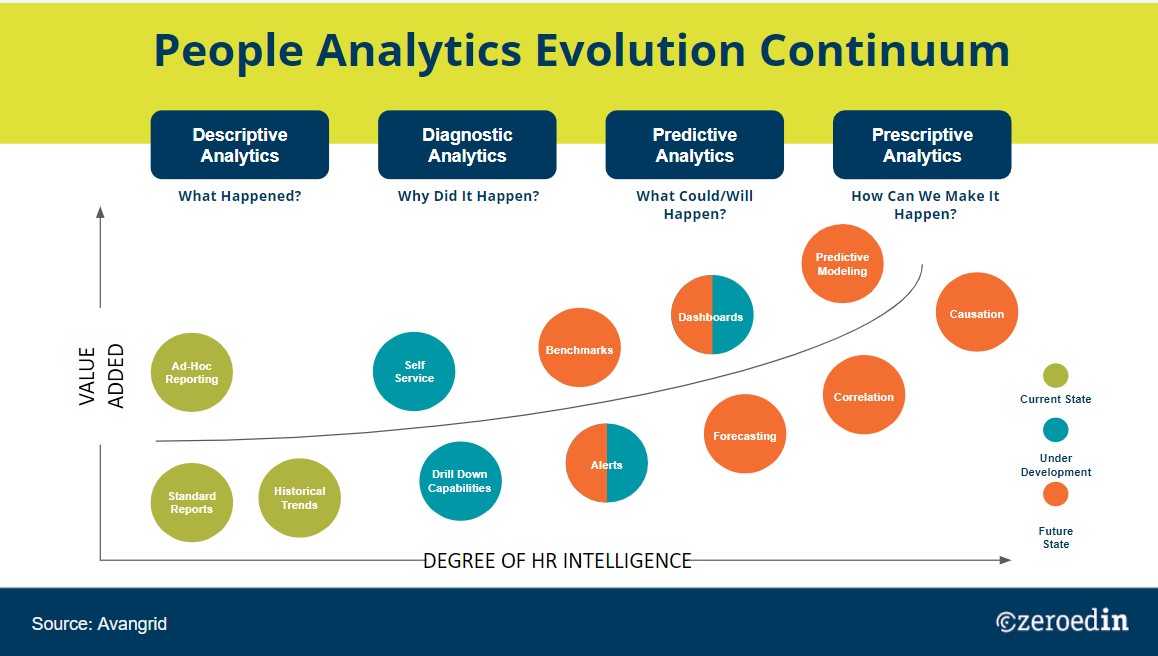 During our recent Webinar "Don't Settle for 'Good Enough' People Analytics Solutions" we spoke to Kari Trost, Director of Rewards Strategic Initiatives, Avangrid, Inc. Kari co-presented with us to demonstrate the realized value her company gained from onboarding ZeroedIn for their day-to-day operations. When speaking about their [pre-ZeroedIn] state, Kari said before using ZeroedIn,  "the complexities [internally] were enormous" in reference to having to download the data, clean the data, then leverage Alteryx and Power BI. "Our end-users," Kari said, "didn't have the capability nor the capacity to understand [the current BI Tool]."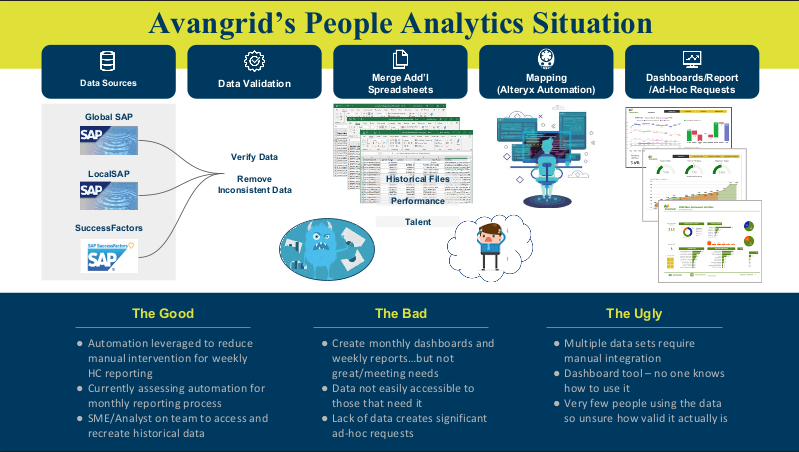 Along those same lines, HR staff might object solely based on bandwidth, citing the lack of time in their schedules and the inability to bring a dedicated staff member on board to work with a new people analytics platform. "One thing we really liked about ZeroedIn is that they have data scientists there to support us," Kari said. "which is like having a half-time employee on the team."
ZeroedIn, in particular, has robust reporting capabilities that ensure that you don't need a data scientist on board to interpret and act on the information your team is collecting. As far as the lack of time, any modern people analytics tools should be easy to install, implement and use.
For leadership teams who try to draw a line in the sand over budget concerns, it's worth pointing out that new or upgraded people analytics can, in many cases, be more affordable than losing employees. The cost of investing in recruitment, onboarding, and training new employees is a substantial cost to weigh. A recent survey by Zippia suggests that it costs $4,425, or in some cases up to 40% of the base salary, to onboard a single new employee.
Learn More
5 Keys to Building a Business Case for a People Analytics Platform
Carefully presenting your case to your leadership team can help you show value and gain the insights you need. Follow these five steps for a successful pitch to gain buy-in for a new system.
Executive Summary: Be prepared to take a few thoughtful paragraphs to your leadership team. Leaders in particular love to have solutions and problems presented in tandem. When you highlight the issue of current people analytics failures at your company, be ready to wow them with the details of what a robust platform like ZeroedIn can do to alleviate the problems.
Addressing overarching issues:

The Great Resignation itself is an issue to discuss as you research a new people analytics platform. The shift of satisfaction in the workforce merits taking a look at your employees' perspectives and acting on those findings. 

The current state of people analytics tech in your organization:If your HR team is manually gathering data and interpreting it or has a system in place that only presents the data, it might be time to look for a new solution. ZeroedIn helps gather the data, maintains it, cleans it, and provides actionable insights. During our recent webinar 73% of attendees indicated that their ideal people analytics solution is a cloud-based platform that can grow with their business. Could a cloud-based solution further your business?
The proposed solution: Listing fixes is imperative. When you pitch a solution like ZeroedIn, with robust reporting features, you could also highlight the possible consequences of continuing to use your current methods, or doing nothing at all.
Anticipated outcomes from using a people analytics platform: Measurable outcomes, like retention, and more ambiguous goals, like employee satisfaction, are some of the most significant results to look forward to when jumping into a new people analytics solution right now.
Learn More
Begin Building the Business Case New
Data is critical now, not only for the executive team but also for every single leader throughout the organization.
Each HR professional, manager, and supervisor can help build a good work culture and improve employee retention and satisfaction. Give your team the power to make informed decisions when using a tool like ZeroedIn to give insights about your workforce. You can use this data in decision-making, especially now, which can be a competitive differentiator.
Learn More