Every company is striving to find this answer in an effort to execute effective hiring/promotion practices.  Those companies that have access to a strategic talent acquisition dashboard have a leg up on their competition.
In an era of a continuing Great Resignation and layoffs as companies tighten their belts in an economic downturn, businesses need data more than ever to understand the skills their employees have, identify gaps and risks, and make data-based decisions to optimize their teams.
A talent acquisition analytics dashboard will provide the insights necessary to optimize your workforce today and pinpoint the new talent you need. Having these insights at your fingertips can provide clarity into your workflows and make it easier for your team to create hiring processes that are effective and efficient.  
Evaluate Current Employees
Sometimes the talent you need is already on your payroll. You may be able to promote or cross-train an employee to fill gaps, particularly if you aren't utilizing all of that employee's skills. A talent acquisition analytics dashboard can reveal options that eliminate the need to hire a new resource.
Your talent acquisition analytics data can also help you identify employees that are at risk, allowing you to plan for contingencies if your workforce changes.
Evaluate Job Applicants
Your dashboard will also help you approach hiring systematically and efficiently. It will help you understand the most critical gaps and prioritize hiring and assess your pipeline through a diversity, equity, inclusion, and belonging (DEIB) lens. It will also help you track recruitment success and predict candidate success with data modeling.
Also, keep in mind you should be looking at DEIB measures and how they flow from the candidate pool through to hiring, promotion, and skill acquisition after hire. These measures can help you uncover gaps that will help create a more stable, more welcoming, and appropriately diverse workforce where employees choose to stay and develop.
Talent Acquisition Analytics Benefits
Grounding the talent acquisition process with accurate, up-to-date data results in several benefits. First, it helps you find the best candidates to fill a position from your internal or external talent pool. It also streamlines processes, shortening the time from job opening to hire. Next, it provides all the information your team needs with just a few clicks to make competitive offers in line with your current employees' compensation. Finally, it helps you create smooth, effective onboarding and training processes to get your new hires to work independently, providing value to your organization more quickly.
Additionally, the dashboard gives your HR team and business leadership the ability to keep a finger on the pulse of your workforce through descriptive, diagnostic, analytic, and predictive analyses. Using these data points to your advantage can help you hone your talent acquisition strategy to retain top talent for the long term. 
How Efficient Are Your Hiring Processes?
Just about every business has made a bad hire – and has dealt with the repercussions. Research shows the average cost of a bad hire is 30% of that employee's annual salary, on average, $14,900 and for some companies, that number can climb to $240,000. In addition, external hires are three times more likely to fail than the promotion of existing, internal staff. These failures then need to be replaced, starting the cycle all over again and exponentially impacting the unrecoverable expense. 
In the current environment of resignations, changing priorities, and realigning resources to optimize workforces, businesses need insights into hiring processes that work. Traditional interviews, reference checks, assessments, and work sample tests only give a partial view into a candidate's potential. 
With insights from a talent acquisition analytics dashboard, you can also monitor trends and benchmark best practices that result in successful hires. The dashboard will allow you to track metrics, such as time to hire and offer acceptance rates, showing you where you should adjust your strategies. You can also improve onboarding and training and enhance employee engagement that can minimize the need for hiring processes in the future.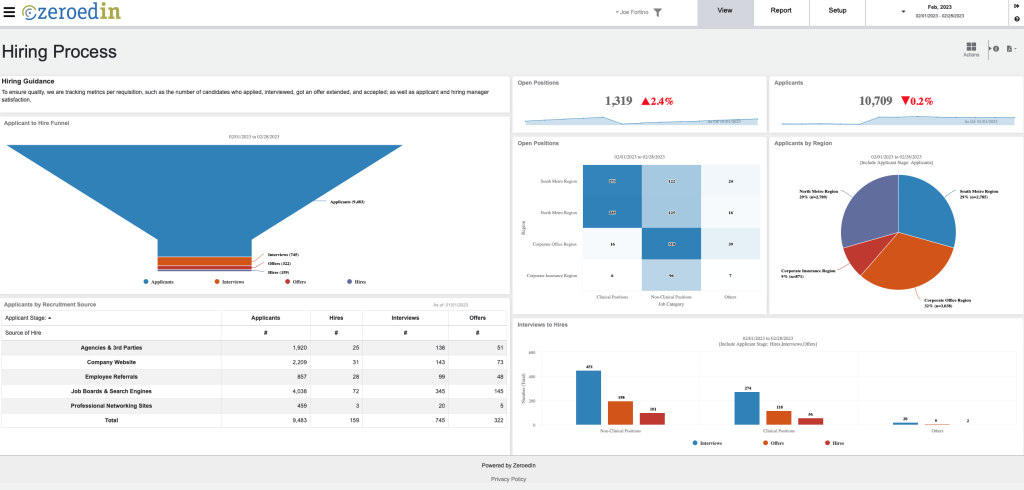 Monitor Outcomes and Progress Toward Your Goals
Each hire or promotion is an opportunity to improve your processes and build a workforce of qualified, diverse, engaged, and productive employees. Each improvement may seem like a small stepping stone but it will compound over time. It will help you understand and successfully compete for talent in today's competitive, employee-driven market.
Additionally, long-term analysis of key operations insights, the market, and your competitors will help you gain an edge, sustain business, and grow your organization more effectively. A talent acquisition analytics dashboard that aggregates data from all relevant sources and makes insights easily accessible to hiring managers is invaluable as they search for the right people with the right skills for the job.
Contact ZeroedIn to see how you can increase visibility into your workforce and your hiring processes. We're people analytics experts providing clarity through trustworthy data. Let us help you streamline your hiring and talent acquisition strategy today.